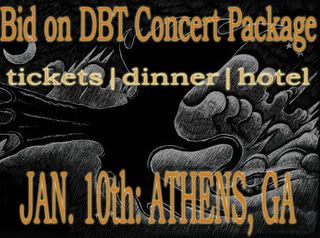 One of a kind Drive-By Truckers concert package!
January 10th, 2008: Dinner/Tickets/HotelAthens, Ga40 Watt Club
Package includes:
* 2 tickets to DBT's concert (Jan.10th) at the 40 Watt Club in downtown Athens.* Dinner for two at
The National
- located near the 40 Watt.* A room at the (very) nearby Holiday Inn for that night.
Plus, DBT extras!
Best of all, 100% of the proceeds benefit Athens, Ga nonprofit
Nuçi's Space
. Nuçi's Space is dedicated to ending suicide by providing low-cost counseling to local musicians and artists.
**NOTE: Due to the unusual nature of this auction, there will be no delivery of any tickets. We will coordinate with the winners once the auction has ended and a winner has been determined.